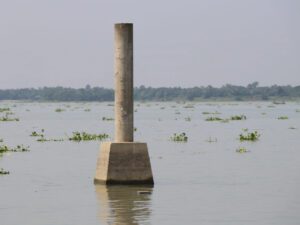 This report's purpose and scope are to review the current steps of the BIWTA project: Construction and Installation of Demarcation Pillars, Jetty with Allied Work on Evicted Foreshore Land of the Rivers Buriganga, Balu, Sitalakhya (Second phase). We studied 37 kilometres of Buriganga and Turag riverbanks to verify the accuracy of the installed pillars. This study aims to provide insight into the operation and implementation of the demarcation and allied projects for government and non-government actors. The study highlights the current challenges in terms of accuracy, transparency, and accountability of the public spending for the conservation of Dhaka's four rivers. The hope is that the findings will help all involved actors align on a positive roadmap for strong governance and a transparent and error-free operation for the demarcation of rivers, particularly given the controversy and corruption during the last demarcation pillar instalment project.
In 2014, a committee led by the joint secretary of the Ministry of Land found that grabbers were filling up the rivers surrounding Dhaka. Following the committee's recommendations, the demarcations pillars were reinstalled under a 2018 project. This research mainly focuses on identifying the wrongly installed pillars (those below or within the monsoon watermark, i.e., within the foreshore or in the river) located along the banks of the rivers Buriganga and Turag during the ongoing project.
We carried out comprehensive data collection and analysis through field surveys and digital documentation. The study includes actual field data with digital documentation of the demarcation project. We hope this will provide all relevant stakeholders with productive insights and directions for conserving our urban rivers.